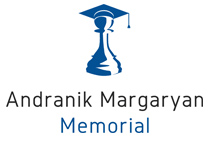 Round Robin


Tournament
ChessAcademy.am
The 7th Andranik Margaryan Memorial Kicked off
2017-01-08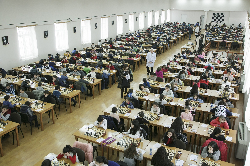 Andranik Margaryan Memorial - Swiss Tournament kicked off today (January 7) at the Chess Academy of Armenia.
760 young chess players from Armenia, Nagorno-Karabakh, Sweden and Georgia are participating in this tournament.
The Swiss tournament will last in the following age groups:
A4 tournament – boys under 10,
A3 tournament – boys under 12,
B tournament – girls under 12 and 10,
A2 tournament – boys & girls under 14,
A1 tournament – boys & girls under 18.
To follow the pairings and results of Swiss tournament visit the official website of the tournament (http://amargaryan-swiss-2022.chessacademy.am/, submenu - pairings & results) or http://www.chess-results.com/ website.
For the photos of the tournament please visit our Facebook page.
Useful links

chess-results.com

Weather in Yerevan

ChessMood
Organizers